Nigeria – Burkina Faso 
The route to qualification for the 2013 Africa Cup of Nations tournament was different for both sides. While the Super Eagles walloped Liberia 6-1, the Stallions needed a stoppage time goal to edge out the Central African Republic 3-3 on aggregate scores.
But that is where the difference ends, and since their 1-1 draw on January 21, both sides have grown in stature and will now contest the final of the 2013 edition of the Nations Cup with a chance to represent Africa in the Fifa Confederations Cup later this year in Brazil.
On the road to the final, Nigeria scored 10 goals and conceded four while Burkina Faso have scored seven and conceded two. Both have improved but Burkina Faso will be missing in form striker Alain Traore, who equalised against Nigeria and scored three goals during the tournament before picking up an injury. The good news for the Burkinabe is that star player Jonathan Pitroipa has had his red card from their last match against Ghana rescinded after Caf decided that his booking was a mistake.
The Nigerians also have injury concerns for two of their better players – Emmanuel Emenike, who has scored four goals, and the chief instigator against Mali, Victor Moses, who has added two strikes. Burkina Faso will also have to make changes to their line-up, with right-back Koffi a major doubt.
But as Jonathan Akpoborie said, "The Eagles have to continue playing like they did against Cote d'Ivoire." That is good advice, as nothing has been won yet by either team, and while they are already both commended for coming this far, history will only remember the country that wins the title.
For Burkina Faso, this is uncharted territory and for Nigeria, it is a chance to return to the high standards of previous years.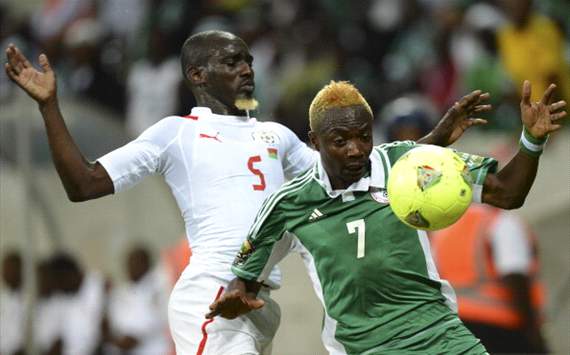 Panionios – PAS Giannina
Panionios out: Peristeridis (gk 18/0), Lampropoulos (df 9/2), Koulocheris (df 8/0), Andralas (df 12/0), Rokas (mf 11/1), Samaris (mf 14/1), Kouros (att 16/0) and Aravidis (att 17/6)
PAS has out Fegrouche (gk 18/0). Back in team is Pantos (df 16/0)
Academica – Rio Ave
both teams withpout topscorers. Academica has out Edinho (16/10) but also Wilson Eduardo (att 12/3) out and Flavio Ferreira (df 17/1), Makelele (mf 15/1) doubtfull
Rio Ave has out Tarantini (att 17/5)
Santos FC-Paulista Jundiaí
Santos with full teeam, Neymar, Arouca and Montillo are back from International dutties while Edu Dracena fit for first game of season..
Rafael: Bruno Peres, Edu Dracena, Durval e Guilherme Santos; Arouca, Marcos Assunção, Cícero e Montillo; Neymar e Miralles
Abouth Osijek – Dinamo, my view on game..
dinamo is for sure best team in league and will over this season maybe with 20 points more than other, their owner mamic is boss of croatian footballl, even national team, he is pawerfull and he have one more club lokomotiva..also he is in good relationships wuth smaller clubs (which give their voice to himor his people in asspociation) like inter, zagreb..also he is last years savior of Osijek..osijek is in big financial problems, no moneyfor 6-7 months for payments and when come such situation than mamic take some junior which is in u19, u21 national team, very perspective and he give some small money but thery have for payments than..like before, same situation was now..
it is great odds on dinamo's win, specially if we know situation in osijek (no matter dinamo left vida, kovacic and they dont have defenders if stardard df injury or booked)..osijek sold that junior to dinamo and 4 players to rijeka (but goalkeeper vargic and jugovic will go now, other too will stay on loan in osijek till summer..also 2ng gk of rijeka will come on loak to replace solded vargic)..
anyway, odds are too good but for me this is game for no bet..reasons are good relationships, shitty league, dinamo dont need points and bookies..it will be manny bets on dinamo but there are two problems: PSK (prva sportska kladionica or first sports bookie) is secret sponsor of nk osijek (just few people knows that secret) and other 'bookie problem' is that there will be new low for bookies, they had 5 % tax on tickets (that is in local bookies, internet bookies not have it) and now it will be 7 % and they will not earn money like before..
also one more reason is Zdravko Mamic. as i said he is apsolutelly boss and it will be how he decide but this guverment wanna make manny changes in low. one of it will be just because of zdravko mamic who sold manny manny players in last years, earn manny manny millions and state didint get one single euro because of it..also he is suspicious to europan institutions because everybody knows he own lokomotiva also (but he is not in any single document)..also after all last news abouth biggiest betting scandal in history it should be not big number of fixing but i doubt in it..
so dont know what to advice you..if we look clear, without any suspicious than is definitly away win and hendicep win..if we look other way, we can go for suprise but as i said in this case is best no bet..