Real Madrid – Galatasaray 
 Malaga – Borussia Dortmund 
Seattle – Chelsea
CenturyLink Field
18th June 2012
Champions league winner will play their first Pre-season friendly match against the Seattle Sounders at CenturyLink Field.
Chelsea will start their 2012-2013 season with playing against Seattle Sounders who are in third position of MLS Western Conference. Chelsea travelling players to USA are: Petr Cech, Ross Turnbull, Henrique Hilario, Jamal Blackman, Paulo Ferreira, Sam Hutchinson, Branislav Ivanovic, David Luiz, Gary Cahill, Michael Essien, John Mikel Obi, Josh McEachran, Ramires, Frank Lampard, Kevin De Bruyne, Marko Marin, Eden Hazard, Gael Kakuta, Yossi Benayoun, Romelu Lukaku, Todd Kane, Nathaniel Chalobah, George Saville, Lucas Piazon and Patrick Bamford.
Probable Lineups
Seattle Sounders 4-5-1:  Meredith; Burch, Ianni, Parke, Johansson; Rose, Gonzalez, Alonso, Evans, Montero; Rosales.
Chelsea 4-2-3-1: Cech; Ivanovic, Hutchinson, Luiz, Cole; McEachran, Obi Mikel; Marin, Hazard, Ramires; Patrick Bamford.
Result of last match played between Chelsea and Seattle Sounders: Seattle Sounders 0-2 Chelsea 
Etoile-Carouge – Southampton
Etoile Carouge will play newly promoted side Southampton who just made to the Premier league securing runner-up position in the Championship.
Southampton will play an away match with Etoile Carouge in July 18 as their pre-season friendlies. Etoile Carouge are Swiss club who has recently been relegated to 1. Liga Promotion which is 3rd division Football in Switzerland. After securing 13th position in league table, winning just 8 and drawn 10 games out of 30, they experienced relegation from Swiss Challenge League. It was the same season when the league runner-ups Aarau humiliated Carouge with 7-0 away win.
Southampton will be looking to build proper rhythm before the starting of the league where they have pressure to hold their ground as a newly promoted side. They will be playing Manchester City as their first fixture match, so they need to perform better against their opponent in July 28. Similarly they have important game coming in their friendlies list when they will visit AJAX on July 28.
Southampton Probable Line Ups:
Bartosz Bialkowski, Aaron Martin, Dan Harding, Frazer Richardson, Jose Rocha Fonte, Adam Lallana, Dean Hammond, James Ward-Prowse, Richard Chaplow Tadanari Lee, Lee Barnard,
Panathinaikos – Dusseldorf  
Last game at Austrian-Germany camps for Pao, thy played tree games alrerady but that was not strong opponents  (Braunschweig 1:1, Krasnodar 1:2, Al-Sadd 1:0). Today are called Kapino and  Mavrias but there are still no Leto (best striker, still injured), new striker Barbarouses and two players without contract, Karagounis-Quincy.
In Fortuna was very traffic, 16 players come. (for jusr 1.100.00 €). Goalkeeper Fabian Giefer was most expencive (400.00 € ), come from Leverkusen.250.000 € was striker Gerrita Wegkampa (Osnabrusk)and defender Tobiasa Levelsa (Monchengladbach), and  200.000 €  for striker Stefana Reisingera (Freiburg). Other players come for free, striker Nando Rafael (Augsburg),defenders Cha-Du Ri (Celtic), Nios Papadopolous (Olymoiakos) and Bruno Soares (Duisburg),and midfielder Axell Bellinghausen (Augsburg).
Also, some players left club (8 players). Most important are defender Assani Lukimya (Werder), attacker Thomas Broker (Koln) and midfielder Max Beister (HSV, loan finished). They didnt play serious game in pre-season yet, they won VFL Rede (6-0) and Viktoria Goscha (10-0) and loose vs  Wolfsburg 2nd team (0-2). I think there are manny changes and for than need time
Erfurt – Dortmund  
Borussia still without their international players ( Piszczek, Błaszczykowski, Lewandowski, Perišić, Hummels, Reus, Götze..)
Stevenage – Tottenham
Spurs wit new manager, Harry  Redknappis changed with  Andre Villasa-Boas. Also, club left two Croats, Kranjcar and Corluka, best player Modric is between Real Madris and PSG (some new stories said Ferguson and Chelsea are still interested). They bring Vertonghen (Ajax) and  Sigurdsson from Hoffenheim but most important is that Bale and  Adebayor stay in club (Van der Vaart  maybe change club). New manager  Andre Villasa-Boasa will give chance to lot players.
Stevenage change lot, briing lot good players and two important midfielders leave club:  Lawrie Wilson (48  caps/5 goals/6 asists) and Michael Bostwick (45/7/3)
Hannover – Hertha Berlin
Hannover was very good last season. They didnt change lot, team is almost same. Club left Pogatetz (sold in Wolfsburg) and two players loan finished: Royer (Koln) and Stoppelkampa (Munchen 1860). New players are Felipe (Standard), Hiroki Sakai (Kashiwa) and Adrian Nikci (Zurich). They palyed easy games in friendlyes and won all (Havelse 4-0, Nordhorn 3-1, Gottingen 3-0, Ramlingen 6-1)
Hertha relegate to 2. bundesliga and there was changes. Manager Otto Rehhagelleave club and new coach is Jos Luhukay. Club left: captein Mijatović, defender Lell and midfieldersi Ottl und Ebbert. Also young strikers Kargbo und Torun and reserve goalkeeper Aerts left club. New players are Ndjeng (Augsburg), Kluge (Schalke) and  Kachunga (Monchengladbach).
Hertha  in friendlyes won Midtjylland (2-1) and Viktoria (2-0) and loose vs Teplice 1-0.
Amazulu – Manchester United
No Wayne Rooney for Sir Alex Ferguson's side, but a host of experienced names including Paul Scholes and Rio Ferdinand feature, while Dimitar Berbatov and Bebe will also take part
New Manchester United signing Shinji Kagawa has been named as part of a strong squad for their pre-season tour of South Africa.
The summer capture from Borussia Dortmund features alongside fellow new recruit Nick Powell in a squad including the likes of Paul Scholes, Rio Ferdinand, Michael Carrick, Chicharito and Antonio Valencia.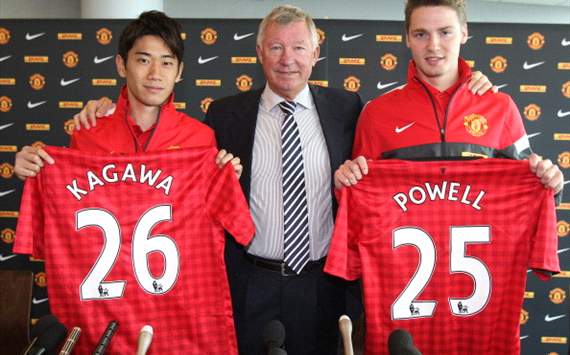 But there is no sign of England internationals Wayne Rooney, Phil Jones and Ashley Young following their involvement in Euro 2012, while Chris Smalling continues his recovery from the groin injury that ruled him out of the competition.
Ryan Giggs and Tom Cleverley will take no part due to their involvement in the Team GB squad for the London 2012 Olympics.
Dimitar Berbatov, who is expected to leave Old Trafford this summer, is involved however, as is Bebe, who spent last season on loan at Besiktas but struggled.
Sir Alex Ferguson's side face AmaZulu and Ajax Cape Town in the coming week, before travelling to China to take on Didier Drogba's Shanghai Shenhua.
Manchester United pre-season tour squad: Anders Lindegaard, Ben Amos, Sam Johnstone, Rio Ferdinand, Frederic Veseli, Marnick Vermijl, Scott Wootton, Tyler Blackett; Antonio Valencia, Anderson, Michael Carrick, Paul Scholes, Nick Powell, Shinji Kagawa, Bebe, Ryan Tunnicliffe, Jesse Lingard, Robbie Brady, Davide Petrucci; Dimitar Berbatov, Chicharito, Federico Macheda.
AMAZULU FC
Kapini
Teysie, Van Heerden, Nyadombo, Bukasa
Zhuwawo, Johnson, Mbhele, Senamele
A. Dlamini, G. Dlamini

MANCHESTER UNITED

Lindegaard
Vermijl, Ferdinand, Wootton, Brady
Carrick, Scholes
Valencia, Kagawa, Powell
Hernandez
Ajaccio – Bordeaux
Bordeaux without Obernian, Henrique, Carrasso, Plasil, Nguemo and Biyogo
Forest Green – Wycombe  1X @ 2,05
Forrest from conference much stronger this season: Paul Green(DF-40/0,Tamworth),Ed Asafu-Adjaye(DF-9/0, Luton),Omar Koroma(FW-Brondby,Portsmouth reserves),Magno Vieira(FW-24/9,Fleetwood),Ben Wright(FW-41/17,Braintree) and Phil Marsh(FW-36/20,Stalybridge).
Wycombe was relegate to league two. They bring: Richard Logan(FW-28/5,Exeter), Gary Doherty(DF-3/0,Charlton), Matt Spring(MF-41/4,Leyton Orient), Sam Wood(MF-26/1,Rotherham), Dennis Oli(FW-23/2,Gillingham) and Lee Angol(FW,Tottenham Academy).
Also lot players left (loan finished): L.Laing-DF-11/0, C.Eastmond-DF-11/0, L.Johnson-DF-27/0, J.Tunnicliffe-DF-17/1, M.Rowlands-MF-10/0, S.Donnelly-MF-18/4, M.Whichelow-MF-4/1,K.Harris-MF-17/0, A.McNamee-MF-9/2, P.Hayes-FW-6/6, B.Strevens-FW-36/4 and M.Trotta-FW-8/8.
Also, 5 players still injured: D.Foster-DF-29/0, M.McCoy-DF-28/0, M.Bloomfield-MF-31/2 and new signings Dennis Oli and Lee Angol. R.Logan is doubtful (if he play, he will not even one half).
FGR squad: Russell, Bulman, Hodgkiss, Stokes, Turley, Oshodi, Asafu-Adjaye, Todd, Green, Brown, Bangura, Klukowski, Forbes, Collins, Rowe, Norwood, Koroma, Styche, Vieira, Taylor, Marsh, Wright.
Wycombe squad: Bull, Ingram, Stewart, Doherty, Hause, Winfield, Dunne, Basey, Lewis, Spring, Scowen, Kewley-Graham, Ainsworth, Grant, Wood, McClure, Beavon, Logan, Triallist.  LINK